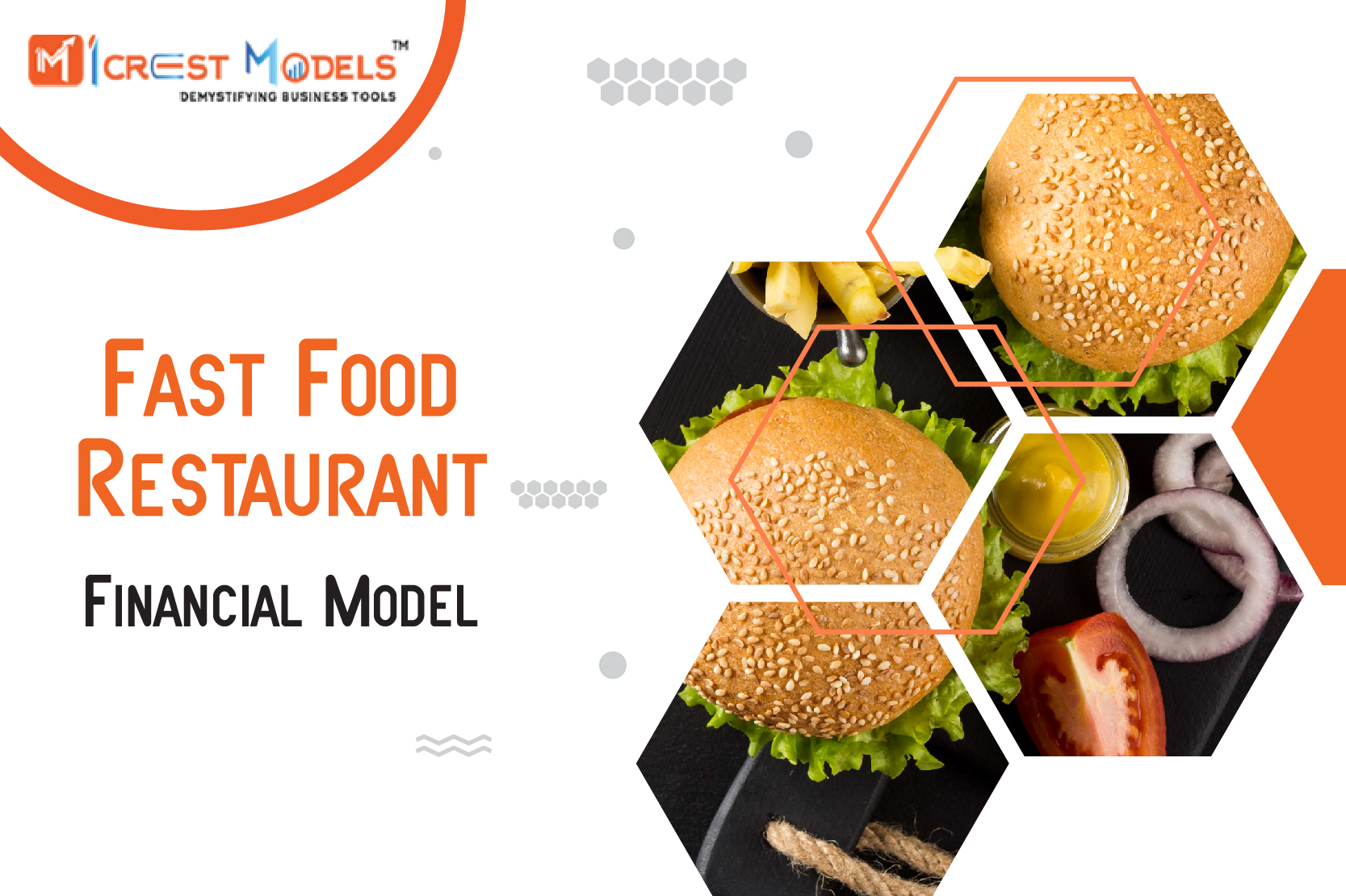 ---
Nov 30, 2022
About Fast Food Restaurant?
A fast-food restaurant also referred to as a quick-service restaurant (QSR) in the industry, is a particular kind of restaurant that offers fast-food cuisine such as Sandwich, Pizza, Burgers, French Fries, etc., and prioritizes speed and convenience. Fast food places serve food from a small menu that is prepared in bulk in advance and kept hot, finished and packaged upon order.
While dining in is an option, the majority of fast-food restaurants also provide quick takeaway, and many also offer drive-through service. The cost of the food is low, and the quality of the ingredients is probably lower than it is at most other kinds of restaurants. Many of these businesses in the restaurant sector are chains or franchises with many locations all over the country or even internationally.
Usage of Fast-Food Restaurant Financial Models
Every business needs a financial model. Whether you want to raise funds, understand what's your breakeven, your valuation or create a budget for your restaurant business plan. One can also use our professional financial model template to improve their fast-food restaurant financial performance.
But, the primary purpose of building a financial model for an early-stage fast food restaurant is to raise investment/funding from Individual Investors, VCs, etc. By looking at the forecasts and projections of the business in the years to come, they'll invest money into the business.
What to present in a Fast-Food Restaurant Financial Model?
Forecast customers,

Forecast revenue,

Forecast direct & indirect expenses,

Forecast capital expenditures,

Build 3-Statements (P&L, BS, and CFS),

Ratio Analysis,

Summary Report,

Valuation.
Market
The global fast food market size is estimated at US$ 727.96 bn in 2022 and it is expected to hit US$ 964.6 bn by 2030 with a registered CAGR of 4.0% from 2022 to 2030.
Conclusion
A fast food restaurant meal is something that some individuals do frequently throughout the week as a way of life. It happens on a regular basis for others. Convenience plays a big role in why fast food is so popular. There's no hassle of grocery shopping and there is no need to spend time cleaning up.
To make fast food tempting to consumers, restaurants strive to achieve the optimum amount of mouthfeel. Fast food, in contrast to typically homemade dishes, usually appears delicious and pleasant to eat. Eating includes not just the flavour of the meal, but also its aroma and aesthetic.
We realize that in today's day and age, it's not just the food that matters but also the ambience, so fast-food restaurants will be a terrific place to visit and hang out with friends and family. Along with the taste, they offer a space with exquisite decor where you can chill, take selfies, and enjoy time with your family and friends.
Icrest Models provides a wide range of financial model templates to business owners looking to launch a fast-food restaurant. With our templates, you might be able to accomplish your ambitions. Our templates are easy to use since they are created with the utmost care and thoroughly tested to provide users with a sense of relief.
Below are the template links for a few of the Fast-Food Restaurant financial models;
https://icrestmodels.com/product/pizzeria-3-statement-financial-model-with-5-years-monthly-projection-and-valuation-2